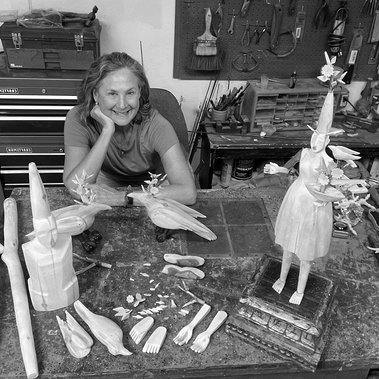 Artist Statement
A guiding principle in my life is to walk lightly on the planet. To that end I work with sustainable, found and reclaimed materials. Each summer or fall I visit an aspen forest to collect downed wood for my carvings. Every time I return I'm moved by the strength and the delicacy of the natural world. My concern for the environment often translates into works about the relationship between people and nature. In recent years issues of human migration and habitat loss have made their way into my visual narrative. The artwork I do is a reflection of my worldview that we're here to care for one another and to act as stewards for the earth.

Biography
Arizona based artist Elizabeth Frank feels a communion with trees. It began in her early years spent exploring the outdoors in Olympia, Washington. There the rainforests near her home became her sanctuary. Now she visits the forests of Northern Arizona or New Mexico to gather aspen for her carvings.

After receiving a Bachelor of Fine Arts degree Frank worked in the film industry. On her jobs buying for and decorating sets she enjoyed transforming spaces to create believable locations. The quest to find the perfect objects to help propel a narrative ignited her love of found things. She now incorporates this same quest into her creative process.

Her artwork can be seen in galleries and festivals throughout the United States. It's been featured in television, film and books. She is honored to have her pieces included in collections around the country and abroad.

Charitable Donations
Since establishing her art business in 1994 Elizabeth has endeavored to support the environment through donations and a sustainable art practice. She strives to step lightly on the planet through the use of reclaimed, non toxic and found materials. A portion of the proceeds from art sales are donated to non profit organizations working to protect the lands, waters and climate that species need to survive as well as non profits dedicated to serving those who are displaced from their homes. In recent years she's focused on nonprofits supporting the Sky Islands of the Southwestern United States. Some of the organizations she supports:
The Center for Biological Diversity
Sky IslandAlliance
The Northern Jaguar Project
The UN Refugee Agency
The Nature Conservancy

Upcoming 2023 Events
Art Santa Fe
July 14-16
Santa Fe, NM
2023 Sculpture Festival Show and Sale
March 17-19
Tucson, AZ
2023 Santa Cruz Valley Artists Open Studio Tour
Presented by Tubac Center of the Arts
March 10-12
Tinaja Desert Art Retreat, Green Valley, AZ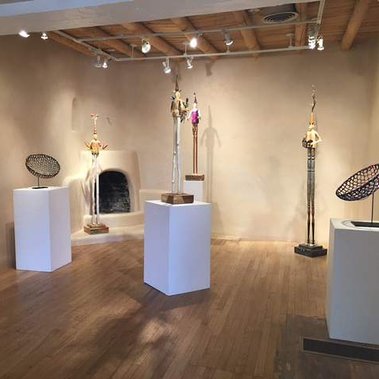 CV
REPRESENTATION
PETROGLYPHS, Tucson, AZ
MAS Y MAS, Tubac, AZ
ARTFULHOME.COM
2022
ART SANTA FE, Santa Fe, NM
LA QUINTA ART CELEBRATION , La Quinta, CA
SCULPTURE FESTIVAL, Tucson, AZ
SITE BROOKLYN, The Figure, Brooklyn, CA
HARLOW GARDENS, Holiday Art Market, Tucson AZ
TUCSON MUSEUM OF ART, Fall Artisans Market, Tucson, AZ
2021
WAYNE ART CENTER, Craftforms 2021, Wayne, PA
TUCSON MUSEUM OF ART, Fall Artisans Market, Tucson, AZ
SHEMER ART CENTER, Creative Knots-wood and fiber exhibition, Phoenix, AZ
HARLOW GARDENS, Holiday Art Market, Tucson, AZ
SCULPTURE TUCSON, Rough Terrain-Inaugural Sculpture Park Exhibition, Tucson, AZ
2019
TUBAC CENTER FOR THE ARTS, Mythos-four figurative artist invititational, Tubac, AZ
SUNSHINE SHOP, Kinetics and Aesthetics, TUCSON, AZ
SCULPTURE TUCSON, Tucson, AZ
CONTRERAS GALLERY, Small Works, Tucson, AZ
CHERRY CREEK ARTS FESTIVAL, Denver, CO
VERUM ULTIMUM GALLERY, Chasing Ghosts IV, Portland, OR

2018
GALERÍA SENITA, Tucson Loteria, Tucson, AZ
CONTRERAS GALLERY, The Little Big Art Show, Tucson, AZ
LOVELAND FINE ART INVITATIONAL, Loveland, CO
HILLIARD GALLERY, Human Form, Kansas City, MO
TUCSON SCULPTURE FESTIVAL, Tucson, AZ
2017
CHERRY CREEK ARTS FESTIVAL, Denver, CO
CONTRERAS GALLERY,Women's Group Show, Tucson, AZ
LANNING GALLERY, Making History-Women in Art, Sedona,AZ
TUCSON MUSEUM OF ART, Holiday Art Fair, Tucson, AZ

2016
TANSEY CONTEMPORARY, Small Scale Big Ideas, Santa Fe, NM
ART PROVIDENCE GALLERY, Face Off, Providence, RI
ART SANTA FE, Santa Fe, NM
BAYOU CITY ART FAIR, Houston, TX

2015
AMERICAN CRAFT COUNCIL FINE CRAFT EXHIBIT, Baltimore,MD
CHERRY CREEK ARTS FESTIVAL, Denver, COART PROVIDENCE GALLERY, Clothing Optional-A Figurative Show, Providence,RI
GALLERIA AT THE YW, What the Desert Heart Knows-Two Woman Exhibit, Tucson, AZ
COSTELLO CHILDS CONTEMPORARY, Scottsdale, AZ
PETROGLYPHS, Holiday Show, Tucson, AZ

2014
AMERICAN CRAFT COUNCIL FINE CRAFT EXHIBIT, Baltimore, MD
ART HOUSE CENTRO-Sacred Love-Threes Woman Exhibit, Tucson,AZ
KIMBALL PARK CITY ART FESTIVAL, Park City, UT
PLAZA ART FAIR, Kansas City, MO
SONORAN GLASS SCHOOL, Trading Places Fundraiser, Tucson, AZ
LANNING GALLERY, Do-Over Found Object Art, Sedona, AZ
COSTELLO CHILDS CONTEMPORARY, New Works, Scottsdale, AZ

2013
HUMAN ARTS, Recycled Art Festival, Ojai, CA
SACRED MACHINE, Beyond the Sacred Music and Arts Festival, Tucson, AZ
COSTELLO CHILDS CONTEMPORARY, New Faces, Scottsdale, AZ
SCOTTSDALE ARTS FESTIVAL, Scottsdale, AZ
SACRED MACHINE, Santa Muerte Music and Arts Festival, Tucson, AZ

2012
PIMA COMMUNITY COLLEGE, Sculpture on Campus - One year Installation and honorarium, Tucson, AZ
PLAZA ART FAIR, Kansas City, MO
MARY LOU ZEEK GALLERY, Holiday Exhibit, Salem, OR
SACRED MACHINE, Santa Muerte Music and Arts Festival, Tucson,AZ
BELLEVUE ART MUSEUM ARTS FAIR, Bellevue, WA
LA JOLLA FESTIVAL OF THE ARTS, La Jolla, CA
SCOTTSDALE ARTS FESTIVAL, Scottsdale, AZ
SACRED MACHINE, Beyond the Sacred Music and Arts Festival, Tucson, AZ
MARY LOU ZEEK GALLERY, 100 Artists, Salem, OR

2011
LUX CENTER FOR THE ARTS, Reclaimed, Lincoln, NE
WATER STREET GALLERY, Objects of Desire, Douglas, MI
SCHILLING STUDIO GALLERY, Featured Artist, Telluride, CO
SACRED MACHINE, Beyond the Sacred Music and Arts Festival, Tucson, AZ
MAIN STREET FORT WORTH ART FESTIVAL, Fort Worth, TX, Jurors Award
FIESTA ART FAIR, San Antonio, TX
SCOTTSDALE ARTS FESTIVAL, Scottsdale, AZ
OBSIDIAN GALLERY, Earthly Patterns-Two Person Exhibit, Tucson, AZ
SACRED MACHINE, Blood-An exhibition exploring passion, sorrow, life and death, Tucson, AZ

2010
SACRED MACHINE, Milagros-Small Works Invitational, Tucson, TOHONO CHUL PARK, Night Moves-After Dark Images, Tucson, AZ
WATER STREET GALLERY, Lost and Found, Douglas, MI
AMERICAN CRAFT COUNCIL FINE CRAFT EXHIBIT, San Francisco, CA
CHANGING LANES, Water Street Gallery, Douglas MI
SCOTTSDALE ARTS FESTIVAL, Scottsdale, AZ, Best in Show-Sculpture
ASPEN AND OBJECTS, Desert Art Collection, Palm Desert CA
MARY LOU ZEEK GALLERY, 100 Artists Benefit Auction Exhibition, Salem, OR

2009
THE HUMAN ELEMENT,Tubac Center for the Arts, Tubac, Arizona, Award of Excellence-Sculpture
SUN VALLEY ART FESTIVAL,Sun Valley Art Center, Ketchum, Idaho
CHERRY CREEK ARTS FESTIVAL, Denver, Colorado
RE-VISIONS: ART MADE FROM RECLAIMED MATERIALS,Tohono Chul Park, Tucson, AZ
FIESTA ARTS FAIR, Southwest School of Art and Craft, San Antonio,TX
SIMON GALLERY, Yakima, WA
MARY LOU ZEEK GALLERY, 100 Artists Benefit Exhibition, Salem, OR
BALLET TUCSON BENEFIT AUCTION, Tucson, AZ

2008
BEST OF THE WEST juried invitational, Desert Art Collection, Palm Desert, CA
PHILADELPHIA MUSEUM CRAFT SHOW, November 13-16, Philadelphia, PA
DINNERWARE ARTSPACE ANNUAL ART AUCTION, Tucson, AZ
BELLEVUE ART MUSEUM, ArtFest, Bellevue, WA
SUN VALLEY ARTS AND CRAFTS FESTIVAL, Ketchum, ID
MARY LOU ZEEK GALLERY, Two Person Show with Jill Mayberg, Salem, OR
LA QUINTA ARTS FESTIVAL, La Quinta, CA
THAI BURMA BORDER PROJECT,Benefit Auction, Little Rock, AR
MARY LOU ZEEK GALLERY, What's Inside, Benefit Exhibition, Salem, OR

2007
OBSIDIAN GALLERY, Midsummer Nights Dream, Tucson, AZ
LANNING GALLERY, Raw Alchemy-Featured Artist, Sedona, AZ
COSTELLO CHILDS CONTEMPORARY-Featured Artist, Phoenix, AZ
MARY LOU ZEEK GALLERY, Shelter-Invitational Benefit, Salem, OR
BUYERS MARKET OF AMERICAN CRAFT, Philadelphia, PA

2006
MARY LOU ZEEK GALLERY,Shrines to Environment Benefit, Salem,OR
OBSIDIAN GALLERY, Persona/Alter Ego Invitational, Tucson, AZ
TUCSON MUSEUM OF ART, Ready Set D'art, Tucson, AZ
COSTELLO CHILDS CONTEMPORARY, Phoenix, AZ
AMERICAN CRAFT COUNCIL FINE CRAFT EXHIBITION, Baltimore, MD

2005
AMERICAN CRAFT COUNCIL FINE CRAFT EXHIBITION, Baltimore, MD
AUSTIN FINE ARTS FESTIVAL,Austin, TX
CHERRY CREEK ARTS FESTIVAL, Denver, CO

2004
SOFA NEW YORK,International Exposition of Sculpture,Objects & Functional Art,Represented by Gallery Materia,Scottsdale, AZ
TUCSON ARTS DISTRICT PARTNERSHIP, Urban Picnic, Tucson, AZ
AMERICAN CRAFT COUNCIL FINE CRAFT EXHIBITION, Baltimore, MD

SELECTED PUBLICATIONS
ARTIST PORTFOLIO MAGAZINE, Issue No. 40, June 2019
CIRCLE QUARTERLY ART REVIEW, Spring 2018, An examination of current trends in visual art, page 105, CFA Publishing
ART DOLL QUARTERLY-Interview-"Elizabeth Frank-Here on Earth", Ricë Freeman-Zachary-author, Summer 2014
CONTEMPORARY ART OF THE SOUTHWEST, 2014, Schiffer Publishing, Ashley Rooney-author
GALLERY GUIDE WEST-ARTINFO,Louise Blouin Media, Spotlight- Elizabeth Frank
THE DESERT LEAF-"Aspens and Found Objects",Lorraine Darconte-author,July/August
500 HANDMADE DOLLS, Lark Books, page 197
PHOENIX HOME AND GARDEN February 2007, Cities West
WOOD ART TODAY, Schiffer Publishing, Dona Z. Meilach-author
AWARDS
2011 JURORS AWARD, Main Street Fort Worth Arts Festival
2010 BEST IN SHOW-Sculpture, Scottsdale Arts Festival
2009 AWARD OF EXCELLENCE-Sculpture, The Human Element Invitational Exhibition, Tubac Center for the Arts
2007 NICHE AWARD FINALIST, painted wood category
2005 PURCHASE AWARD, Janus Student Art Buying Program, Cherry Creek Arts Festival, Denver, CO
2002 TUCSON PIMA ARTS COUNCIL, Honorable Mention, Visual Arts
Fellowship, Sculpture

EDUCATION
2004 TINSMITHING WORKSHOP, Sipasa Studio, Albuquerque, NM
1999 SCULPTURE WORKSHOP, Instituto Allende, San Miguel de Allende, Mexico
1984-1986 BACHELOR OF FINE ARTS, Arizona State University, Tempe, Az
1978-1981 University of Arizona, Tucson, course work toward degrees in Dance and Studio Art